5 easy kitchen upgrades to start this weekend
March 13, 2017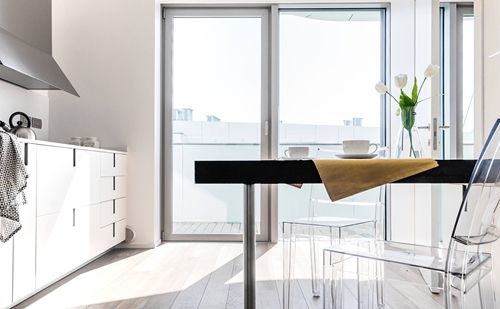 Whether you're a gourmet chef or more of a microwave dinner kind of person, you probably spend a decent amount of time in your kitchen. Consequently, if you want to do some minor home renovation projects that you'll be able to enjoy on a regular basis, the kitchen is a great place to start. A few simple changes can make even the dreaded chore of washing dishes more exciting – or at least more visually appealing.
When it comes to home renovation, sometimes little changes can make a big difference. Upgrade your kitchen this weekend with these five easy projects perfect for any skill level:
1. Paint the cabinets.
Sometimes all it takes to freshen up your kitchen is a new coat of paint. You don't even need to worry about the walls – simply changing the color of your cabinets can really alter the feel of the room. While a bright shade may be tempting, you might want to reconsider. According Oprah.com, you should opt for a more neutral tone. Jesse Carrier, of New York City interior design firm Carrier and Company, agreed.
"Go calm and light — you're in the kitchen all the time, and you can grow tired of a bright color," Carrier told the publication.
His personal recommendation is a white with a gray undertone, as beige tones can look dirty and stark white is institutional.
2. Install under cabinet lighting.
There's nothing like a little mood lighting – even if it's for your kitchen. Add a bit of class to your countertops by installing under cabinet lighting. All you need to do is buy a few click on LED lights and stick them underneath your cabinets. Then, with the push of a button, you'll be able to turn on the lights whenever you need them, no complicated wiring necessary. Better yet, you'll also likely find that it's easier to read cookbooks and labels with that extra bit of light shining from under your kitchen shelving.
3. Buy new knobs.
Looking for a little change that can make a big difference? Try replacing the knobs on your cabinets and drawers. All it takes is a screwdriver and a little bit of time. You should probably go for something classic if you already have a busy pattern on your walls or elaborate lighting fixtures as focal points. But if your kitchen is simple, consider opting for something more unique to make a statement. It's an extremely affordable way to dress up your kitchen.
4. Remove cabinet doors.
If your kitchen is narrow, Better Homes and Gardens recommended giving the room a sense of openness by removing the doors from your cabinets. And what better way to show off all of your favorite decorative dishware? Once you take off the doors, the publication reported that you'll need to fill the holes with wood filler and sand the areas until smooth before painting or staining the cabinets.
5. Replace your faucet.
If you're tired of your boring fixtures, there's no need to deal them any longer. Replacing your faucet is an easy way to give your kitchen a different look. Go for something modern, like a minimalist, chrome touchless faucet. Or consider a more decorative option to finish off your farmhouse kitchen theme decor. With so many different styles, in regards to both function and appearance, changing this element of your sink can have a big impact on the tone of the entire room.
Want to see a variety of faucets and other essential fixtures to complete your kitchen upgrade? Visit a Wolseley Kitchen showroom, where our experts will help you make the perfect decision for elevating the decor of your room.