5 ways to declutter your bathroom
March 27, 2017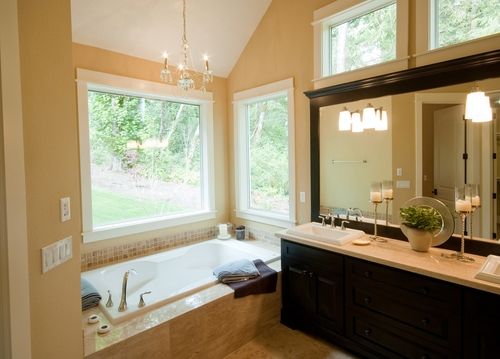 You probably store a lot of products, towels and other necessities in the bathroom. From toothbrushes and toothpaste to shampoo and shower gel, the room needs to hold a large number of things that are essential for both your morning and evening routines. Consequently, you may find that your bathroom can become cluttered fairly easily, especially if there's not a lot of space to begin with.
No matter the size of your bathroom, the space will feel much airier once you've decluttered it using these five simple steps:
1. Use it or lose it
One of the simplest ways to declutter your bathroom is to set aside some time to go through all your products and decide what you actually use and get rid of the rest. After all, how many hotel shampoos and conditioners does one person really need? The same goes for all those odds and ends that are either broken or never used. Remember that blow dryer that hasn't worked for more than a year? Time to let it go. Sorting through all of your cabinets and drawers and getting rid of the things that you don't use will free up space for the products that you actually need. Plus, now you'll most likely have the space to store them in a more organized manner. It's a win-win.
2. Clear the countertop
If you have guests coming over and need to get rid of clutter quickly, clearing the countertop should be your first step. If your bathroom is feeling a bit cramped, chances are that a lot of the blame lies with all the items that are laying out around the sink. Invest in some baskets and other containers to put in your drawers so it's easy to put things away quickly without creating a jumbled mess.
While you'll probably want to keep a few things on the counter – like your toothbrush and maybe a box of tissues – try to avoid more than is absolutely necessary. Having that open area will help make your room appear more spacious. HGTV even recommended installing wall-mounted holders for items like soap and your toothbrush to decrease clutter on the counter.
3. Make the most of your space
Even if you have a small bathroom, you probably still have room to create more storage opportunities if you get creative. For example, the empty space above your toilet is the perfect spot for a few extra shelves, as is the area under the sink. While it might be difficult to fit a full-sized cabinet in the bathroom, you may also be able to add thin or short set of drawers in a narrow gap. Better Homes & Gardens recommended considering half-height cabinets under the windows for extra storage room that won't overwhelm the space.
While extra storage options can really decrease the clutter in your bathroom, make sure you don't overdo it. If you cram every spare inch with a cabinet or basket, your bathroom will still look crowded even though it's more organized. If you have a nearby closet, consider storing some products there that you don't use as often, such as first aid supplies.
4. Take advantage of the backs of doors
When it comes to storage space, don't forget some of the less obvious places, like the back of cabinet doors. Better Homes & Gardens recommended attaching magnetic strips or small hooks on those areas to help organize and hide away your smaller bathroom items, like manicure scissors or hair accessories.
The back of the bathroom door itself can also be used for additional storage. You can easily hang a rack over the door that will keep your extra towels organized, but close at hand.
5. Choose minimalist decor
If you have a small bathroom, or just want your space to appear larger, choosing a minimalist theme for your decor is the way to go. Keeping the esthetic of the room simple will help the space look less cluttered. Pass on clustered small candles and picture frames and opt for a single potted plant on the counter or a lone painting on the wall. A good rule of thumb is to avoid any decoration smaller than a grapefruit. When it comes to decorating your room, less is more when clutter is a high concern.
You can also choose simple fixtures and bathroom accessories to complement your minimalist theme. To find the perfect options for simplifying your bathroom decor, visit a Wolseley Canada showroom, where you can explore a wide selection of faucets, shower heads and more. Sleek, modern fixtures will give your bathroom a clean, organized look that you're sure to love.