5 Ways to Make Your Kitchen More Unique
May 22, 2017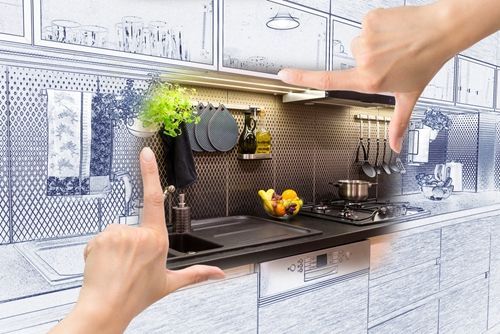 Between checkered dish clothes and farmhouse-style sinks, kitchens have the tendency to share some common characteristics. It is not really surprising, since these rooms usually each have a refrigerator, dishwasher, range and other standard features. But sometimes, you do not want your home to look like every other one on the block, and that includes the space in which you cook. Luckily, there are simple ways to make your kitchen unique without breaking the bank.
If you want to create a kitchen that stands apart from the crowd, consider one of these five strategies:
1. Play up mirrors
Looking to add some wow factor to your kitchen? Think about putting up a few decorative mirrors. A set of three or four smaller framed options can create a sophisticated look that will also reflect the natural light that comes in through the windows. The result is an elevated tone that will make your kitchen a pleasure to cook in, any day of the week.
As an added bonus, mirrors can make your room appear bigger. It is an easy way to open up the space without knocking down a wall.
2. Add some colour
Sometimes all you need to add to get some extra character in a room is a pop of colour. While neutral tones are extremely popular for kitchens right now, some well-placed colour can add interesting contrast to the room, helping to set it apart from more traditional décor.
Houzz recommends dressing up your kitchen cabinets with not just one fresh coat of bright paint, but many, to create a patchwork effect. The quirky look works well with a vintage theme, but can also fit in with a more modern aesthetic. The tone will be strongly influenced by the colours that you choose.
3. Dress up your faucet
When you think of conversation starters, your faucet may not be the first thing that comes to mind. But an interesting faucet at your sink can really influence the feel of your room and attract the attention of your guests. Gone are the days when you were stuck with whatever piece came with your house. Faucets come in all shapes, sizes and colours now, and you can find anything from extremely simple to intricately decorative options, and everything in between. To see a wide variety of choices, visit your local Kitchen & Bath Classics showroom where one of our sales associates will be happy to help you find the perfect unique faucet for your kitchen.
4. Install glass doors
Glass doors are an up-and-coming trend that can take the most standard of kitchens from boring to interesting overnight. Plus, they are the perfect opportunity to show off your favourite mugs, dishware and other kitchen essentials that might otherwise be tucked away in storage except at mealtime. Better Homes & Gardens added that glass doors can give the impression of a decorative China cabinet, which will add extra visual appeal to your space.
For a similar effect, consider taking off the doors altogether. Open shelving can create a unique ambience that, as an added bonus, will make your room appear larger.
5. Play up your lighting
If a single feature will attract attention in your kitchen, it will likely be your lighting. After all, the source of light in your room by definition is anything but subtle. Instead of standard overhead options, consider a statement piece, like a modern chandelier, that will add character to the space.