6 Hot Bathroom Remodeling Trends
April 20, 2017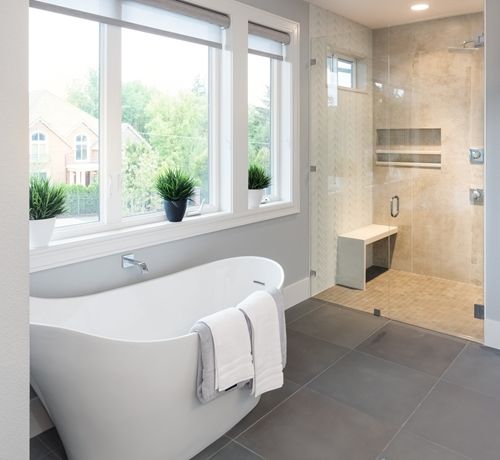 With spring underway, cleaning and remodeling efforts are in full swing. If you are looking for a little inspiration to get you going on a bathroom remodel, check out some of the latest and greatest trends in bathroom remodeling:
1. Mediterranean-Inspired Designs
According to DIY Network, the Old-World inspired designs of countries like Spain, Morocco and Portugal are more popular than ever. From hand-painted terra cotta to vivid mosaic tiles, arabesque patterns are all the rage.
2. Touches of the Natural World
Organic materials – from wood to seashells – are being paired with more traditional bathroom design materials like tile and stainless steel to create a unique, elegant aesthetic. While organic materials have always been difficult to integrate into bathrooms due to moisture concerns, innovations in finishing and design can better protect these features.
3. Floating Vanities
A trend that has been popular in Europe but hasn't yet fully taken root m across the pond, floating vanities offer a clean, seamless look and a sense of wide-open space. What's even better is the functional and flexible nature of these free-standing vanities: Since they jut out from the wall, they can be positioned at virtually any height, making layout planning much easier.
4. Smart Storage
Homeowners looking for practical, yet discrete, storage have a plethora of options these days. Specialized cabinets can now be designed to hold and organize anything from beauty products to washcloths to hair driers. DIY Network suggested trying open shelving for a chic, yet practical, storage solution.
5. Free-Standing Tubs
Britt+Co reported that there has been a resurgence of free-standing tubs of all shapes and sizes. While these stately fixtures do require abundant space and won't be right for every setting, the variety of different designs – from modern to vintage – means there is likely an option that will fit your decor.
6. Get Rid of Those Shower Curtains
Shower curtains have long reigned as the traditional choice, though they can be difficult to clean and often create a feeling of isolation from the rest of the room. With the advent and widespread utilization of no-threshold showers, bathrooms seem larger and are more accessible, especially for those with mobility issues.
Now that spring is in the air, why not venture into a Wolseley kitchen and bath showroom? One of our specialists would be happy to to help you choose a theme and fixtures that make the most of your unique space.