7 ideas that will modernize your bathroom
December 16, 2016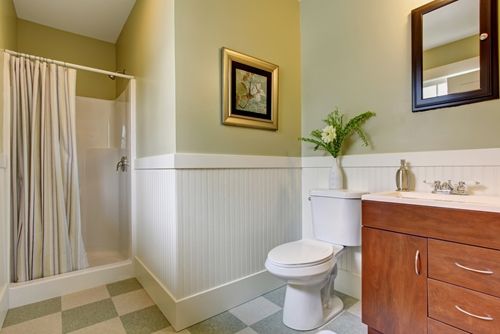 Your bathroom is a private but important part of your home. And although it can be easy to overlook, a boring or old-fashioned setup can be uninspiring. By making your bathroom a bit more modern, however, you can give your home a subtle but powerful facelift.
Small renovation projects can go a long way toward giving your bathroom a new identity. Here are some of the easiest projects to consider:
1. Replace your old wallpaper
One of the first things you should consider when revamping a bathroom is the wallpaper. Tacky, older patterns and designs date the room and will likely show wear-and-tear in the forms of stains and tears. Even an outdated paint job can serve to make your bathroom feel more tired.
Look for colours that are simple but bold. A single splash of red or white can give your bathroom more light, but you might also decide to try a new pattern or style. One suggestion is to use different shades of the same colour to create a more subtle but equally interesting vibe.
2. Paint the inside of cabinets
Beyond the walls, a hint of the chromatic can help make your bathroom not only feel more modern but also more personal. HGTV found that the inside of the drawers on your sink or vanity cabinet is an excellent place for some colour. Opt for bold choices like pink or yellow, and consider getting matching towels to give the room even more charm.
3. Consider a new shower head
Another part of your bathroom that can age rather quickly is your shower head. An old design isn't just unpleasing to the eye, but may also not offer much in the way of water pressure. The most contemporary fixtures are sophisticated and will improve the quality of your morning shower.
Likewise, many of the newest models are also more efficient than their older counterparts. This can lower the total bathroom renovation cost because you end up saving money on your monthly water bill.
4. Opt for a sleeker mirror
Thick medicine cabinets that jut out from the wall aren't particularly attractive, and the right mirror can really elevate your bathroom. Chose a more simple and elegant version. When paired with the right lighting, this turns an old upstairs bathroom into one of the most modern places in the house. it will make getting ready for work or preparing for bed just a little more glamorous.
5. Install a high efficiency toilet
According to the organization Conserve H20, some older toilets use over 12,000 gallons of water every year. Not only is this detrimental to the environment, but it is also bad for your wallet. A high-efficiency toilet uses 20 percent less water than an equivalent standard model. Over the course of its life, this type of toilet can provide a major benefit to your home and Mother Nature.
Importantly, these toilets also look stylish and are another great way to give your bathroom a more stylish appeal. Older versions aren't just bland, but are also more prone to issues related to plumbing and other maintenance.
6. Bring in some life
A few well-placed plants give your bathroom a little bit more sensibility and pizzazz. They can also help aerate a room and deal with stagnant conditions. Use a windowsill or shelf to place a few succulents or other low-maintenance species. For larger bathrooms, a fish tank is a fun way to really uplift the room.
7. Get smart
A new paint job or potted plant is a simple way to make your bathroom feel more modern. To really bring the space into the 21st century, however, you may want to opt for some technology. Smart mirrors can display the time, weather and dozens of other helpful reminders. Smart speakers, meanwhile, can be summoned with a simple voice command to help you get ready for your day.
The addition of smart technology is a useful and fun way to make your bathroom sleeker and more contemporary. Other steps, like installing a new toilet, sink or shower head, are more timeless but equally powerful ideas.
Head to a Wolseley Kitchen and Bath showroom to look for ways to make your bathroom more modern.