Does Your Bathroom Need a Double Sink?
July 26, 2017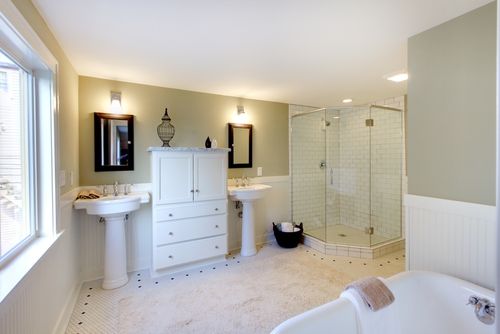 Think about your morning routine. Do you struggle to elbow past your partner to brush your teeth? Or have trouble finding space for your hot curling iron on the countertop? If every morning is a struggle, the solution to these challenges and more could be a double sink.
You do not need to knock down a wall to create more space in this high-use area. If you are designing a new bathroom or renovating an old room, a double sink may be smart choice for your home.
Reasons to consider a double sink
Unless you live by yourself, you probably split a bathroom with a romantic partner or platonic roommate. And while they say that sharing is caring, at times it may be more beneficial for your morning routine to have your own spaces.
If this sounds familiar, you are not alone. The most common reason to choose a double sink is that you need more space because you share the bathroom with another person.
"Couples these days usually prefer the idea of two sinks for one simple reason," architect Thayer Hopkins told Houzz. "They lead busy lives and need access to the bathroom at the same time."
However, simplifying your morning routine is not the only reason to choose a double sink. Another benefit of this optionis the increase of personal space. No more worrying about which tube of toothpaste is yours – just keep your possessions around your personal sink.
You will also have more counter space, which can help if you use a straightening iron, curling iron or other tool in the morning that needs to rest on a flat surface.
Finally, assuming you put in a double vanity as well, this strategy will increase your storage space. And who does not need more room for bathroom organization?
Considerations for a single sink
A double sink is not for everyone. When making these bathroom layout decisions, one of the first things that you need to think about is space. Clearly, two sinks take up more room than one, so you need to make sure that this is a feasible option for your bathroom.
"If there isn't a solid 6 feet or more available for two sinks, I will counsel clients to stick with just one sink basin," Hopkins told Houzz. "These 6 feet or more will give the minimum 11- to 12-inch buffer needed between basins to keep a couple from banging elbows and crowding each other out."
Keep in mind that just because you have the space does not mean that it is the right decision. Squeezing in an extra sink might make the room more crowded and give you less space to move around, which would actually make the resulting design less convenient when you get ready in the morning.
Another downside to the double sink is the cost. Between the increased supplies, a larger vanity and more difficult piping and installation, you may spend significantly more than if you had chosen a single sink instead. So make sure that you are willing to invest in the project before you get started.
Once you have decided on the right sink – or sinks – for your bathroom, give some thought to the faucets that you want to pair with the new design. At your local Wolseley Canada Kitchen & Bath Classics showroom, you can choose from a number of trusted brands, such as American Standard, DXV, and GROHE, to ensure you find the right sink and faucet solutions for your home.