Hot Trends in Kitchen Design
July 25, 2016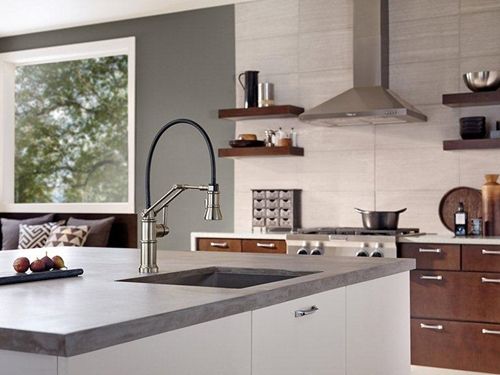 Whether going for a classic, timeless look or something fresh and modern, kitchen design is a mixture of art and science. Kitchens often serve as the focal point for home, a place where families gather to bond over the preparing and sharing of food. As such, both form and function are key elements to consider when designing a beautiful kitchen.
Here a few of the hottest tends in kitchen design for 2016:
"Try muted blues, charcoals or pale greens in your kitchen."
Soft, muted colors (or just lots of white)
Since kitchens see so much use, opting for softer, muted colors or gleaming whites can help keep it clean. Bold, dark colors often make it difficult to spot stains or areas that need cleaning, while whites will give your kitchen an inviting, fresh feel. Layer shades of white can also create the feeling of depth while keeping your decor consistent.
Not a fan of white? Try muted blues, charcoals or pale greens to give it a warm, colorful shading. Stronger, bolder colors are better left as accent.
Smaller appliances
Often, kitchens can suffer from feeling overcrowded and cramped. This is because there are a few major appliance staples that are musts in every kitchen and they tend to take up space: stoves, refrigerators, dishwashers, microwaves and so on. Rather than accept the sprawl, many homeowners have instead turned to more compact appliances, including minimalist two-burner cooktops, combination microwave/convection ovens, and smaller dishwashers and fridges.
'Smart' design
The buzziest trend in modern design is the discrete integration of "smart" design elements. Hidden charging stations, device docks or Bluetooth speakers can turn your kitchen into a high-tech haven for those tapped in to the latest devices.
Quartz instead of granite countertops
While granite has long been the industry standard for easy to clean, scratch resistant countertops, quartz is seeing a surge in popularity. Unlike granite, quartz doesn't require annual sealing and can be mixed with resin to produce a wide variety of designs and finishes.
A mix of traditional and modern
Can't decide between vintage and modern looks? Why not integrate the two! Many designers are now taking the classic, elaborate designs from yesteryear and filtering them through a more modern or post-modern sensibility.
"Even traditional kitchens may experience a slightly cleaner feel with bold lines and less fussy details," interior designer Jane Lockhart told Forbes. "Traditional designs will always remain popular, but future renditions will be more deliberate with an emphasis on key elements like hoods, islands, cabinet crowns and so on."
Breaking down the walls between kitchen and living spaces
Kitchens are increasingly taking on a larger, more central role in family life. Rather than simply being there to prepare food, kids may do their homework on the counter or even sit down to eat right there. Consider decorating your kitchen similarly to other living spaces to make the flow more natural.
For other ideas, stop by a Wolseley Kitchen and Bath showroom today.