Making the most of a small kitchen: 7 stellar strategies
November 16, 2016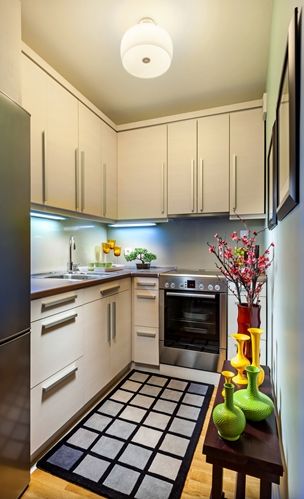 From millennials opting to live in cramped apartments in big cities or retirees making the decision to downsize the family home to the overall trend in the marketplace toward more modest abodes, a greater number of us are now living in smaller spaces. And a snug house generally means less kitchen space. However, just because your cooking area is on the cozy side doesn't mean you have to sacrifice style and practicality. There are a number of surefire strategies that you can implement to ensure that you get the very most out of your kitchen. Check out our handy guide below:
1. Make use of a small island
While islands tend to be associated with larger and more extravagant spaces, it's still possible to incorporate a smaller, workstation-only island into your kitchen area. As Good Housekeeping advised, smaller islands with shelves and drawers can be used not only to prepare food, but also store a range of items, such as utensils, pots and pans, appliances, cookery books and so on, freeing up space on your countertops and allowing for a more polished and put-together vibe.
2. Use hooks
One great way to save on space is to hang items on hooks, Kitchn suggested. Consider hanging some hooks above your stove and letting your frying pans and pots hang down above the area. Not only does this make great use of empty space but it also serves an aesthetic function by helping to create a more rustic look. And whether it's the side of your cabinets or the sides of your kitchen islands, be sure to hang hooks and make the most of empty space, while also keeping in mind that balance is key – if you hang up too many items your kitchen will begin to feel cluttered and suffocating.
"One great way to save on space is to hang items on hooks."
3. Don't be afraid to use shelves
Install as many shelves as you possibly can, in keeping with the overall design of your kitchen space. Shelves are easily installed and come in a wide array of shapes, sizes and designs. They are arguably the most effective way to store items in a small space in as tidy a way as possible.
4. Remove unnecessary items
Much like other rooms in the house, many of us will have items in our kitchens that we rarely if ever use – like that panini maker you received last Christmas or those cans of soup that are gathering dust in the back of your cupboards. One surefire way to free up space is to spend an afternoon organizing your kitchen and removing items you no longer need. Throw out food that has exceeded its sell-by date and donate cans of food to your local homeless shelter or food? bank. When it comes to pots, pans and other items that you no longer use but may need someday, Bright Side noted that stylish baskets or well-designed boxes can be used for storage while also complimenting the overall design of your kitchen. The boxes can be stored out of the way in the space above your cupboards.
5. Incorporate tissue boxes
One way to save room and be environmentally friendly is to reuse old tissue boxes. How you ask? Well, according to Good Housekeeping, tissue boxes can be used to store plastic bags that may otherwise take up precious room in your cupboards. Tissue boxes can also hold an array of other small items that may get in the way – such as sticky notes for your shopping list, pens, birthday candles, a lighter and so on.
6. Decide on an appropriate color scheme
Certain colors can actually make rooms feel larger and more spacious. According to HGTV, bright and bold tones can best create the illusion of more space as opposed to colors that are less striking and muted. So think plenty of orange, or a bold green or a dazzling light blue.
7. Consider striking wall art
If you have room on your walls that hasn't been taken over by shelf or hook space, make use of the area by hanging a large painting, print or a series of stylish family photos. This is a great move because, as Elle Decor noted, larger pictures can actually make rooms feel more sizeable.