The Do's and Don't's of Bathroom Remodeling
July 21, 2016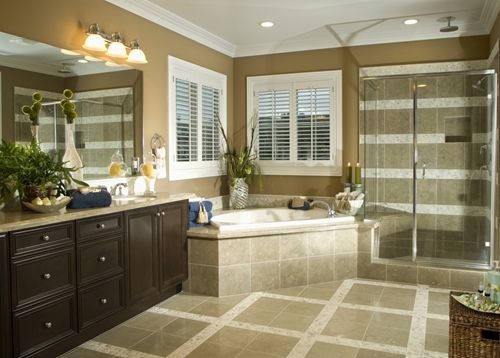 Bathrooms are a uniquely essential feature of every home. They are utilitarian, get significant traffic, yet aren't always the first thing we think of when it comes to a beautiful, well-appointed home.
This makes a bathroom remodel an excellent project to up the value and comfort quotient of a home. A bathroom remodel is one of the best ways to see strong return on investment – but only if it is done right. To make sure your next remodel is a successful one, follow these bathroom renovation Do's and Don't's:
"A bathroom remodel is one of the best ways to see strong return on investment."
DO: Start gathering ideas together early
Before you make any big moves to initiate a renovation, it helps to look around at different styles of bathrooms and consider the scope of what you want to do. Are you looking to simply replace a few fixtures, like bathroom cabinets, as well as repaint? Or are you interested in a major overhaul? Stop by local showrooms to give yourself ideas for what you could do with the space, then put together your thoughts in the form of a list of pictures to help you conceptualize.
DON'T: Do it yourself
While changes in decor – like swapping light switch covers, updating shower curtains and repainting – can be solid projects, larger bathroom renovations should be left the the professionals. Bathrooms involve a complicated mix of plumbing, electrical and carpentry that most homeowners simply aren't qualified to take on by themselves. Research local contractors and make sure that the one you go with has the needed certifications and experience.
DO: Budget for the unexpected
After you've found a contractor you trust and discussed what you want to do, your contractor will give you a quote or estimate for how much it will cost. When budgeting, try and budget in more than just the quoted cost, just in case things turn out to be more complicated than you originally expected. Typically between 10 and 15 percent of the quote is sufficient. This extra money can come in handy if during the renovation your contractor uncovers water damage or venting issues.
DON'T: Forget about water efficiency
Often, homeowners get caught up in the aesthetics of a renovation and don't consider more ephemeral things like water efficiency or sustainability. Innovations in shower? heads, toilets and faucets mean that homeowners can consume significantly less water every time they use the bathroom. These measures aren't just environmentally friendly, they may save you money on your water bills. Talk to your contractor about what they can to to make your bathroom more water-efficient.
DO: Make room for a vanity
Grooming is a part of your everyday routine, so make sure that your new bathroom has space for the various grooming products and tools you use day-in and day-out. Try and create discrete yet accessible areas where you can store these products out of sight.
If you need ideas and inspiration, stop by a Wolseley showroom today!