The Most Popular Kitchen Design Shapes and Layouts
October 11, 2016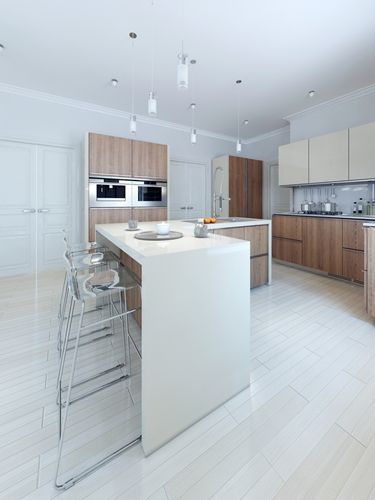 One crucial aspect of a kitchen remodel is determining how the layout will affect functionality. Since kitchens get so much daily use, choosing the right design that makes it easy for the entire family to work and cook is key. This has, in turn, brought about a host of new design features and innovations to expand the functionality of the average kitchen.
"We have gone from the traditional kitchen, where one person prepared meals, to a multi-purpose room and a multiple-cook room, and this evolution has changed us from looking at one work triangle to multiple triangles, or 'zones,'" Mary Jo Peterson, principal of Mary Jo Peterson Inc., told HGTV. "With that in mind, we have to increase clearances and look at adding comfortable spaces in the kitchen."
Here are a few of the most popular kitchen design shapes and layouts and why they might be right for you:
Zone Designs
A "zone design" breaks the kitchen up into distinct "zones," partially separated by counters, islands and other decor. Typically, this designates a cooking area, an eating section and other areas for socializing and working. Cooking is usually given the bulk of the space, to ensure that cooks have as wide a berth as possible.
"Here are a few of the most popular kitchen design shapes."
One-Wall
Popularized in response to the constraints of studio apartments, "one-wall" designs – often referred to as a "Pullman kitchen" – orient all cooking appliances, dishwashers, surfaces and cabinets around a single wall as the hub. They often are accompanied by a centre island, albeit more typically used as a surface on which to eat meals rather than featuring cooking or cleaning appliances.
Galley or Corridor Style
If you find that your kitchen is more narrow, a galley – also known as or corridor – kitchen can help make the most of the space. These kitchen designs tend to forgo any seating or eating surfaces, instead simply utilizing a hallway layout with cooking and cleaning appliances like ovens, refrigerators and sinks featured on either side. The drawback of this kitchen is that, for multiple cooks, it can be tight working quarters.
L-shaped
Similar to a galley-style kitchen, L-shaped kitchens utilize corridors, but are also built along part – if not all – of another wall. The result is a more open version of the galley style, typically with an inner area that has room for seating or socializing. For more counter space, pair an L-shaped design with an island.
U-Shaped or Horseshoe
U-shaped kitchens are essentially two L-shapes facing each other in mirror, with a central island. The island automatically becomes the focal point of the room, allowing for cooking and cleaning to occur on one side while schoolwork and eating can take place on the other. This design has great cooking versatility and functionality, with the added benefit of creating a distinctive "flow" for the kitchen.
Need more tips and inspiration? Visit a Wolseley Kitchen and Bath showroom today!