Tips for designing a minimalist kitchen
March 31, 2017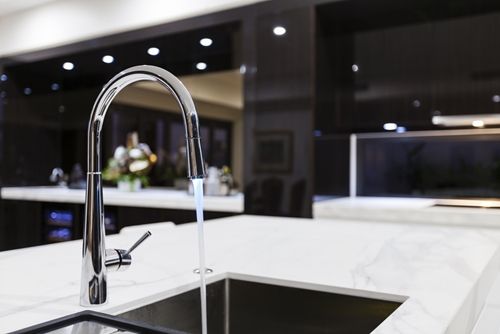 When it comes to home decor, sometimes less is more. Or at least that's the case in light of the minimalist trend. Focused on improving your lifestyle through simplification, minimalism is not only a life philosophy, it's a popular decorating theme. Due to its sheer functionality and tendency to become cluttered, the kitchen is a room that can really benefit from this kind of simplistic design. By implementing a few of its strategies, you'll likely find that your kitchen isn't just more visually appealing – it's also easier to use.
Simple doesn't have to equal boring. Use these tips to create a perfectly beautiful – and interesting – minimalist kitchen.
1. Get rid of the clutter
Your first step in route to a minimalist kitchen is to get rid of the clutter. And that doesn't just mean the old magazines and bills littering the counter. Take a look at the small appliances, fruit bowls and other decorative pitchers that reside in your kitchen and see which ones you can put away. The key to minimalist decor is creating as much empty space as possible, so make the most of storage that is behind closed doors.
If you don't have a lot of storage space, you may want to consider getting rid of some of the kitchen items you don't use regularly. The blog Becoming Minimalist reported that unless you're an avid cooking and baking enthusiast, you can probably get rid of the following kitchen tools that are taking up space on your counter and in your cabinets:
Knife block.
Bread maker.
Espresso machine.
Rice maker.
Panini press.
Wok.
Extra mugs.
2. Rethink your color scheme
If you really want to design a minimalist kitchen, grab your paint brush and get ready to rethink your color scheme. A solid color palette – preferably in neutral tones – is critical for this decorating theme. As an added bonus, this strategy doesn't only make the room look simpler. According to Apartment Therapy, using colors that are all in the same family with minimal contrast makes the area appear more spacious than it actually is.
3. Switch out your faucets
Your sink is a great place to work on the minimalist theme. Switch out your current faucets for a sleek, chrome option that will breathe a modern feel into your kitchen. To view a wide variety of choices for playing up this theme, visit a Wolseley Canada showroom where a sales associate will help you find the perfect faucet.
4. Get rid of the knobs
Ready for a weekend project? Simplify your kitchen by taking out your current cabinet doors and replacing them with plain, solid-colored doors without knobs. If you don't want the doors to be completely plain, you can opt for a simple bar instead of more traditional round knobs.
However, if you aren't looking for such a time-intensive project, just switch out your current knobs with a simpler option for a quick update.